Race: Formula 1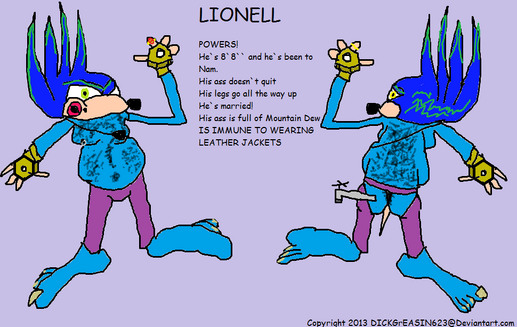 Age: 11
Location: Ohio
Gender: ALL MAN
Powers: IMMUNE TO LEATHER JACKETS, RUN FAST ON THE BEACH, MOUNTAIN DEW TAP, SEA MONKEYS, IS MARRIED, HAS RING HANDS THAT GIVE HIM POWER.
Lionell was just an ordinary kid until one day he had to eat a whole fuckload of designer leather jackets that gave him the extreme powers of being a cool guy and friend to all the people except the people that aren't very good. He's the strongest and the fastest overweight loser in his class and his butt tap only dispenses ORIGINAL FLAVOR GREEN MTN DEW none of that Code Red bullshit. One day he was watching TV and he saw an advertisement for Sea Monkeys and he stole his dad's credit card and bought like three hundred packs of them and then they showed up to his house and he found out they were actually orangutans and his dad was so pissed he married Lionell just so he could divorce him. Distraught by his divorce, Lionell turned to the comment sections of Eastern European movie hosting websites to find some hot rebound action. That's where he met his super hot wife Lionella that he has never met in person. and suspiciously looks like entirely different in each pictures, that he loves dearly and sends his dad's money to basically all the time still.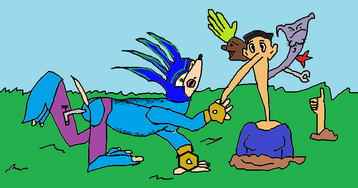 Even though he has a wife and nobody else in his class does because they're a bunch of fucking eleven year olds they don't believe him even though he has never lied in his life and they're just jealous.
He also likes running fast on the beach.
One got kicked out of a Magic the Gathering tournament because he kept trying to use Charizard.
His best friend is a three headed and six eyed cyclops that lives partially underground named Brose. Brose has the powers of schizophrenia and melanoma. You can't see them in the picture but his penis also has three heads. HERE IS LIONELLS BACKSTORY
☀And lastly and most importantly,he doesln't like black people
Community content is available under
CC-BY-SA
unless otherwise noted.