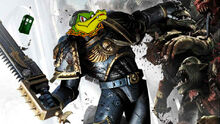 Kowloon grew big in small apart in Moskow. He was big stronk boy Krokdil. When get older for soldering he want to solder so he went to Army Gov Comrade and said "I want to be big stonk marine man Krokdil." So Russian Presidant Stalin man send him to space so Kowloon train and had many surgies and became Big Space Stronk Marine Man Krokdil. He fight on many plants in the unverse and kill many thing because he has all powers of Space Marine but he also secret a Krokdil Timelord. He left Russian Space Comrade Army in TARDIS and flies space and time and locations and things and deminsions in TARDIS and in every place he fuck every bitch ever with his big iron hard marine space dick. He also kill whatever wants he to.
He incunter Ronic on shitty dark plant with diamond volcanos and rivers of blood oil filled with sexy furrie mermaids (furmaids). On this shit plant Ronic was fight 69,000,000,000,000,000 Diamond Blood Quartz Orc Daleks which he or Kowloon alone could take easy but Kowloon thought fun to kill so he help, Kowloon kill 69 less than Ronic but he not mad cuz Ronic cool af. Before they flew away in Kowloon's TARDIS they had sexy times with furmaids and made 32 babies each. Kowloon now help Ronic fight and kill Sonic. Kowloon am also very dumb and have autism.
In Nattive Russian:
Коулун вырос большой в небольшой части в Moskow. Он был большой Стронк мальчик Krokdil. Когда становишься старше для пайки он хочет припаять поэтому он отправился в армии Gov товарищ и сказал: "Я хочу быть большим сильная бомбежка морской человек Крокодил". Так русской Presidant Сталин человек отправить его в пространстве так, Коулун поезд и было много surgies и стал большого пространства Стронк морской Man Krokdil. Он сражаться на многих заводах в unverse и убить многие вещи, потому что он имеет все полномочия Space Marine, но он также секрет Krokdil Timelord. Он оставил российский космический товарищ армии в ТАРДИС и летит пространство и время и места и вещи и deminsions в ТАРДИС, и в каждом месте, которое он ебать сука каждый когда-либо с его большой железа трудно морское пространство хуй. Он также убить все хочет он.
Он incunter адронных на дерьмовой темной завода с алмазными вулканов и рек крови нефти, наполненные сексуальными furrie русалок (furmaids). На этой дерьмо завода адронных был бороться 69,000,000,000,000,000 Алмазные крови Кварцевые орков Daleks которые он или Kowloon одиночку могли бы принять легко, но Коулун думал весело убить, чтобы он поможет, Коулун убить 69 меньше, чем адронных но он не сумасшедший Потому адронных прохладном AF. Прежде, чем они улетели в ТАРДИС Коулун они имели сексуальные раза furmaids и сделал 32 детей каждый. Коулун сейчас помогают адронных сражаться и убивать Sonic.
Community content is available under
CC-BY-SA
unless otherwise noted.